Nieuw restaurant in de Binckhorst
The Harbour Club, tot 2017 in Scheveningen, maakt in de Binckhorst een swingende herstart. Redacteur Casper Postmaa bracht een bezoek aan het restaurant en concludeerde: "Dit wordt een culinair feest, een avontuur, een uitstapje naar een andere wereld."
De Binckhorst, dat was een urban jungle met leegstaande bedrijfshallen en hier en daar nog een zwenkende kraan. Maar aan de rand was BINK36 dé belofte: eens zou dit niet het einde van de stad zijn, maar het middelpunt. Die toekomst is nu in zicht. Als een ruimteschip is The Harbour Club op het dak van de voormalige KPN-vesting geland.
Het spectaculairste restaurant van de stad
De lichten stralen, de naam is al van ver leesbaar. Er is geen enkele twijfel meer: The Harbour Club is het spectaculairste restaurant van de stad. Al is het veel meer dan dat: een culinair feest, een avontuur, een uitstapje naar een andere wereld.
Bij de ingang tussen de twee hoofdgebouwen, waar radiatoren en graffiti ongepolijst de toon zetten, staat een glazen lift klaar om je in één ruk naar de vijfde verdieping te lanceren. Daar is de eerste indruk adembenemend.
De met terrassen omzoomde ruimte heeft de allure van een boardroom en tegelijkertijd suggereert de gebogen kap een heel andere wereld, die van industriële romantiek: gloeiende laspunten en machines die nieuwe producten uitspugen. Het is niet zo vreemd dat deze plek nog niet zo lang geleden het podium voor theaterproducties was. En dan is er natuurlijk die enorme haai, want overal waar The Harbour Club opduikt, laat hij zijn tanden zien.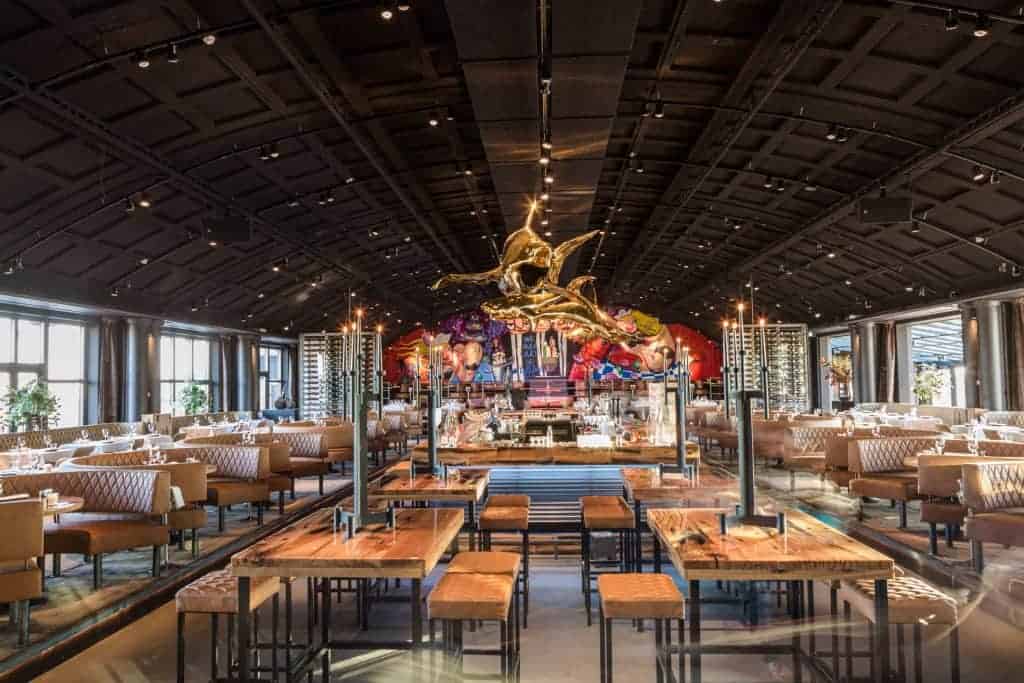 En dan staat er wat te gebeuren. "Dat is inderdaad een van onze kenmerken, een bezoek aan The Harbour Club is veel meer dan uit eten, het is een belevenis waar je nog lang over praat," vertelt Joost Verhoeven. Een voorbeeld van hun perfectie vind je bij de toiletten.
André Hazes of Barry White
In vrijwel elk restaurant is dat een plek van ontnuchtering, je stapt door het decor en ineens is de 'saturday night fever' verdwenen. Niet bij The Harbour Club. "Bij ons draait een DJ in de toiletruimte oud vinyl: Tina Turner, André Hazes of Barry White. Alles wat in de jaren zestig, zeventig en tachtig sfeerverhogend was, hoor je hier."
In hoger sferen ben je al snel, dankzij de architectuur van het penthouse. Er is ruimte voor vijfhonderd gasten (en beneden evenveel parkeerplaatsen!) die het, dankzij de beslotenheid van de boxen, ook intiem kunnen houden. Maar op zomerse avonden zullen de terrassen dé attractie zijn. Eén aan de Binckhorst-kant en één aan de stads/zeezijde.
Daar loopt het terras door naar binnen dankzij de glazen pui die helemaal open kan, waardoor je je zelfs aan de bar buiten waant: je voelt de zeewind en in de verte twinkelen de lichtjes van Scheveningen.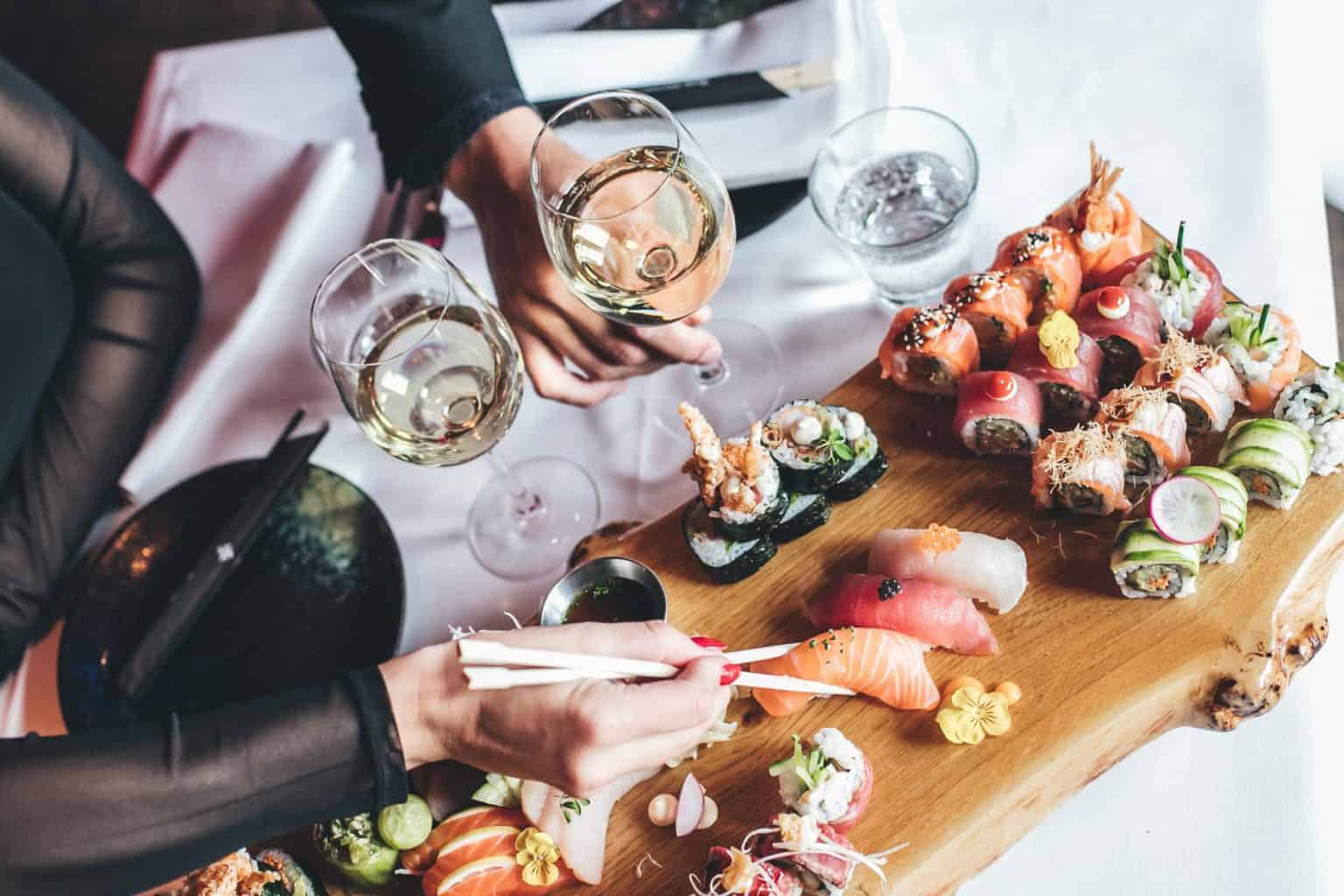 Joost Verhoeven vertelt over de rode draad die zij als ondernemers al tien jaar vasthouden: signature dishes van de hoogste kwaliteit. In hoog tempo: "Denk aan dry aged tomahawk steak, zeetong, sliptong, fruits de mer, gegrilde kreeft, wagyu beef – sowieso het mooiste vlees – en superverse oesters. Veel wordt aan tafel bereid: een vis fileren, een mooie steak tartare, we zullen geen mogelijkheid onbenut laten om gasten te entertainen."
Topacts
Dus saai wordt het nooit. Ook omdat Richard van Leeuwen en Joost Verhoeven zich hebben voorgenomen steeds weer vernieuwend te zijn. Neem de aluminium vliegtuigtrolleys die met drankjes langs de tafels rollen.
Soms op het randje, sexy, een beetje stout
En als ze het over entertainment hebben, bedoelen ze ook entertainment. Dus kun je op het podium topacts verwachten als cabaretier Najib Amhali. "Een saxofonist, of een DJ kan ook, maar dan toch liever iemand met een elektrische viool of twee als kelner verklede operazangers die een duet zingen.Wat we doen, is soms op het randje, sexy, een beetje stout. Ook dat is The Harbour Club: we zijn geen bange hertjes."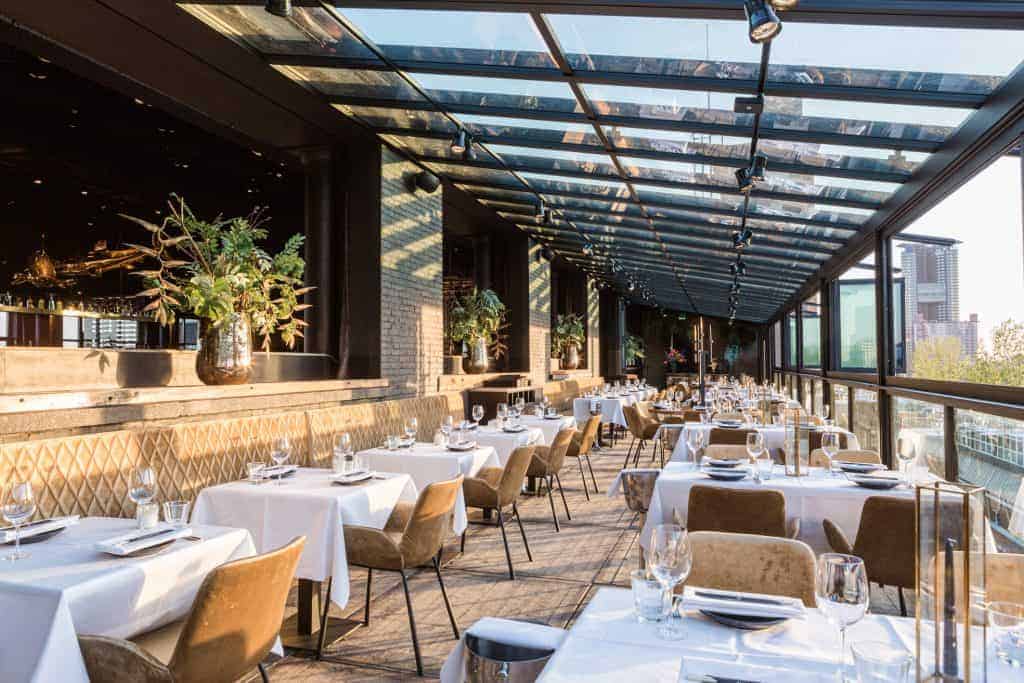 Mariska
Die bijzondere vibe zal vooral van het personeel komen. "Zíj zijn het belangrijkst. Het zou mooi zijn," vertelt Joost, "als de gasten niet zeggen 'we gaan naar The Harbour Club' maar 'we eten vanavond bij Mariska'. "
Een naam om te onthouden dus.