Eigenaren The Harbour Club: 'Er is 0 perspectief'
The Harbour Club staat bekend om zijn grote etablissementen waar veel bekende Nederlanders, voetballers en 'rich kids' komen. In normale tijden stonden er honderden gasten te dansen op de tafels. Maar nu zijn de tafels gedekt, de champagneglazen gepoetst en komt er niemand. En dat terwijl de restaurantketen net wilde gaan groeien.
Een A4-blad siert de liftdeuren van het BINK36-verzamel­gebouw in Den Haag. Wegens onderhoud wordt de bezoeker veroordeeld tot het trappenhuis. Had dit ongemak plaatsgevonden in een andere tijd, dan was de sfeer op de vijfde verdieping van het vroegere poststaatsbedrijf om te snijden geweest.
De honderden hip geklede en zorgvuldig gestylede bezoekers van deze vestiging van The Harbour Club (THC) hadden dan zeven trappen op gemoeten. Zoals de marketingafdeling steevast benadrukt, is het concept van de franchiserestaurantketen 'puur gericht op de beleving'. Of zoals Joost Verhoeven (36), vestigingsdirecteur van deze nieuwe loot, graag en vaak verkondigt: 'Sfeer kun je niet in een doosje stoppen.' En nee, een doosje kun je dit restaurant niet noemen.
De 1400 vierkante meter grote ruimte is opgezet als een penthouse; met hoge ramen, op de muren wulpse schilderingen en aan het plafond gouden haaien – het is immers een visrestaurant. Wc-bezoekers worden getrakteerd op half schunnige teksten en tekeningen op de deuren. Dat jaagt geen klandizie weg, maar zorgt juist voor een verstevigde onlinefanbase, aldus Verhoeven: 'Alles hier is zeer instagrammable.'
De overdaad aan kitsch maakt mede dat The Harbour Club wordt geassocieerd met bekende Nederlanders, volkszangers, voetballers en rich kids uit 't Gooi. In één woord: patserigheid.
Sinds het rumoerige vertrek van een van de oprichters (zie ook het kader onderaan) wil de keten dat imago voorzichtig gaan bijsturen, door een 'restyling' die meer de nadruk moet leggen op de gastronomie. Naast het interieur werd ook de organisatie hervormd. 'De bedrijfscultuur was er een van haat en nijd, maar nu is er meer aandacht voor interne opleiding. Ook stelt het personeel zich nu nederiger op tegenover de gasten. Dat was een flinke klus', erkent Richard van Leeuwen (52), medebedenker van het THC-concept, dat wordt omschreven als 'high-end dineren meets entertainment­'.
De veranderingen betekenen niet dat het onvolwassen, ietwat brallerige karakter geheel moet verdwijnen. 'Ik beschouw die heersende perceptie eerder als uitdagend dan als een kwaal. We móéten juist ook ondeugend blijven. En vergis je niet: er komen bij onze vestigingen ook geregeld raden van bestuur en ondernemers uit de Quote 500 eten.'
Zelfs akkefietjes met gasten kunnen 'positief' afstralen, voegt Verhoeven toe. Zoals die keer dat in de showbizzpers werd uitgemeten dat zanger Douwe Bob was weggestuurd van het terras. 'Hij droeg een joggingbroek – dat is nadrukkelijk tegen ons kledingvoorschrift. De aandacht hiervoor zagen we als een compliment.'
Van Leeuwen gaat zitten in een hoekbankje. De tafel is, net als in de rest van de hal, compleet gedekt, tot champagneglazen aan toe. Intimi omschrijven de boomlange Van Leeuwen, die ruim 25 jaar horeca-ervaring heeft, als iemand van de achtergrond 'en de cijfertjes'. Die houding heeft ook een praktische reden, zegt hij zelf. 'Als ik op een avond iedereen handjes geef, denken ze dat ik er volgende week weer ben.'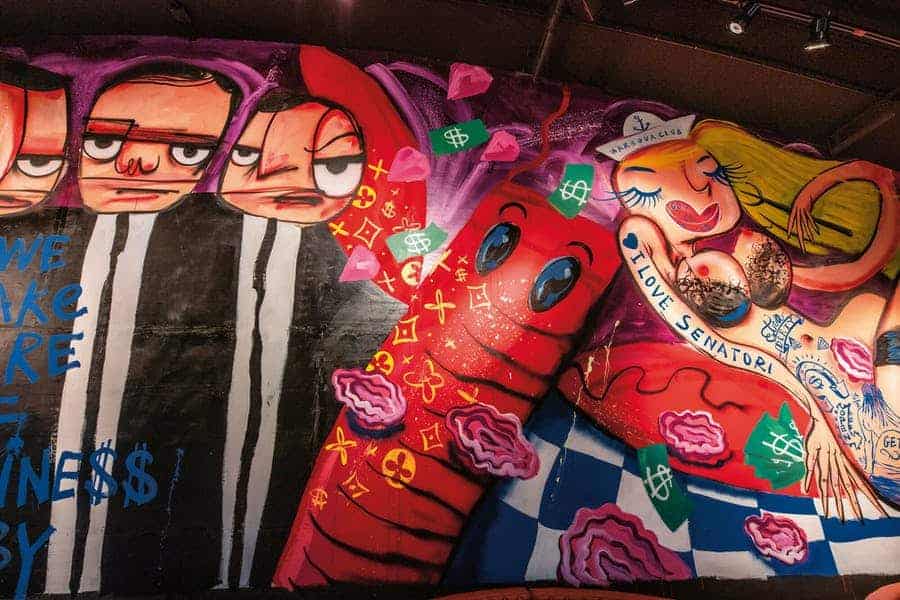 Meisjes uitlaten
De in 2008 opgerichte The Harbour Club-keten telt nu vijf vestigingen: in Den Haag, Rotterdam en Vinkeveen en twee in Amsterdam. Sommige locaties, waar plek is tot circa vijfhonderd gasten, staan in 'uitdagende buurten', waar andere ondernemers voor zouden passen. Zoals een industrieterrein op het Cruquiuseiland in Amsterdam-Oost. De eigenaren spreken van 'omdenken': het draait om bereikbaarheid en parkeergemak. Van Leeuwen: 'De locatie in Oost is op een kwartier rijden van 't Gooi, waar vrienden van me wonen. Ideaal voor als zij hun meisjes moeten uitlaten op vrijdagavond.'
Een ander kenmerk van The Harbour Club is dat in de avonduren het muziekvolume omhooggaat en de handjes de lucht in kunnen. Van sweet sixteen-verjaardagsfeesten tot concerten met deejays, het kan allemaal. Alleen nu even niet.
Nu zijn al die grote zaken leeg. Deze in Den Haag oogt, vanwege een compleet met metershoge kerstboom versierde aankleding, surrealistisch. De klap komt extra hard aan, doordat juist The Harbour Club, zonder extra investeringen, al grotendeels coronaproof was, stelt Van Leeuwen. 'De vestiging in Den Haag alleen al is zo groot, dat je tot 350 man kunt ontvangen met 1,5 meter afstand. Dat mag dus niet. Des te mooier was het dat we in de maanden juni tot september, mede dankzij het mooie weer, toch een omzetstijging van 15 tot 20 procent noteerden ten opzichte van vorig jaar.' Zijn verklaring hiervoor is dat 'van de bank bevrijde' gasten langer aan tafel bleven zitten.
Ook heeft The Harbour Club een trouwe achterban die goed in de slappe was zit. Onder de clientèle namen als dj Martin Garrix, prins Bernhard junior en de inmiddels ook van de tv-serie Dragons' Den bekende ondernemers Pieter Schoen en Michel Perridon. Sommige gasten helpen hun geliefde club nu met reclame maken. Joost Verhoeven: 'Iemand als oud-profvoetballer Robin van Persie bestelt dan een door ons ontworpen sushibox, en maakt daar ongevraagd een foto van voor de sociale media.'
Het is een pleister op een zwerende wonde. Terwijl The Harbour Club-keten in 2019 winst draaide en goed was voor 14 miljoen euro omzet, kan de prognose van dit jaar, 20 miljoen euro omzet, in de prullenbak. Van Leeuwen schat dat door de tweede sluiting het omzetverlies dit jaar 40 procent bedraagt.
Schrikbeeld is dat het bedrijf terugkeert naar de situatie van omstreeks 2016, toen een paar jaar op rij forse verliezen werden geleden en Rabobank de teugels aantrok. Nog altijd moet The Harbour Club bij behaalde winst versneld leningen aflossen en geldt er een dividendverbod. 'Dat hebben we toch niet nodig', zegt Van Leeuwen, met een tijdens het gesprek vaker opborrelende ad-rem-attitude.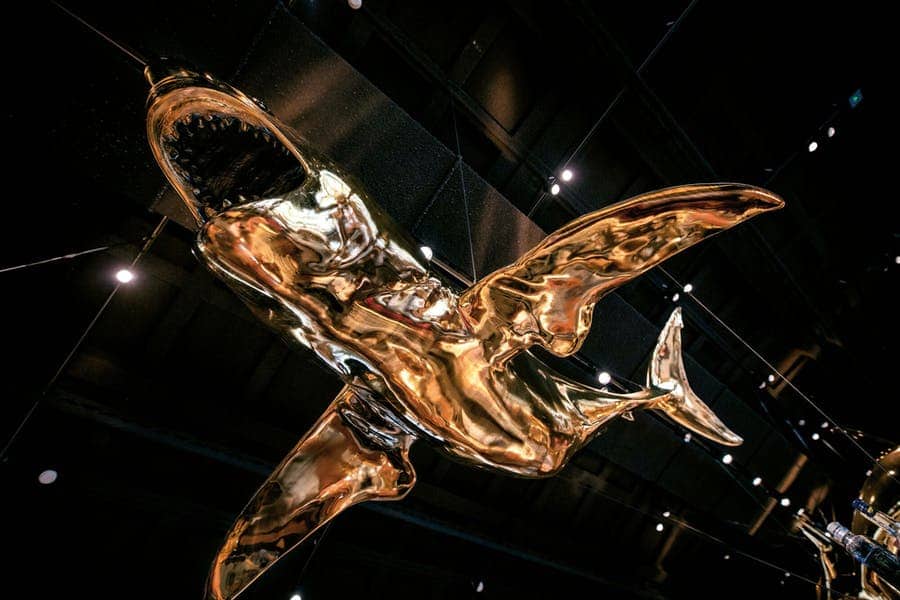 Bureaucratische muur
Overtollig organisatievet binnenboord houden is in het covid-tijdperk geen overbodige luxe. Ook The Harbour Club ontkomt niet aan het virus. Het bedrijf heeft circa 1,4 miljoen euro NOW-steun ontvangen en heeft een twintigtal mensen met flexcontracten moeten laten gaan. Op een personeelsbestand van 400 valt dat nog mee, maar hoe langer het volgens Van Leeuwen 'verlossende woord van onze geleerden aan het Binnenhof' op zich laat wachten, des te groter de kans op meer ontslagen.
Onderhandelingen met financiers en huurbazen worden, wat sarcastisch, zo lijkt het, 'onwijs leuk' genoemd. 'Het is lastig, maar uiteindelijk zijn ook onlangs weer afspraken gemaakt waarbij iedereen geholpen is. Het gekke is dat overheidsinstellingen het moeilijkst doen. Iedereen geeft korting of helpt zijn partner, maar de gemeente Amsterdam …' Van Leeuwen en Verhoeven zuchten, denkend aan een bureaucratische muur die zij trachten te slechten: over belastinguitstel voor 'een stukje kademuur' aan een van hun terrassen. 'Men vraagt aan de maatschappij elkaar coulance te verlenen, maar verleent zelf op geen enkele manier medewerking. Schandalig.'
Van Leeuwen zit ook in brancheverenigingen, waarin regelmatig wordt overlegd over te nemen acties. Dat leidde bijna tot een groot statement, beaamt hij. 'Het idee speelde om collectief in opstand te komen, maar van honderd man mobiele eenheid ga je deze wedstrijd niet winnen.' De horeca voelt zich soms als een mak schaap dat zich naar de slachtbank laat leiden, maar een alternatief is er niet. Van Leeuwen hoort van collega's die, nadat ze publiekelijk van zich af gebeten hadden, ineens werden geconfronteerd met incognito buitengewoon opsporingsambtenaren in hun zaak.
Niet dat de THC-mannen de zorgwekkende cijfers over de verspreiding van het virus ontkennen. Maar het voelt voor hen als onrecht dat de horeca 'gestraft wordt', terwijl volgens het RIVM landelijk nog geen 4 procent van de besmettingen daarnaar te herleiden is, aldus Van Leeuwen. 'De tweede sluiting, in oktober, kwam daardoor harder aan. De spirit zat er net goed in, met de ontwikkeling van nieuwe concepten. Maar op dit moment is er nul perspectief.'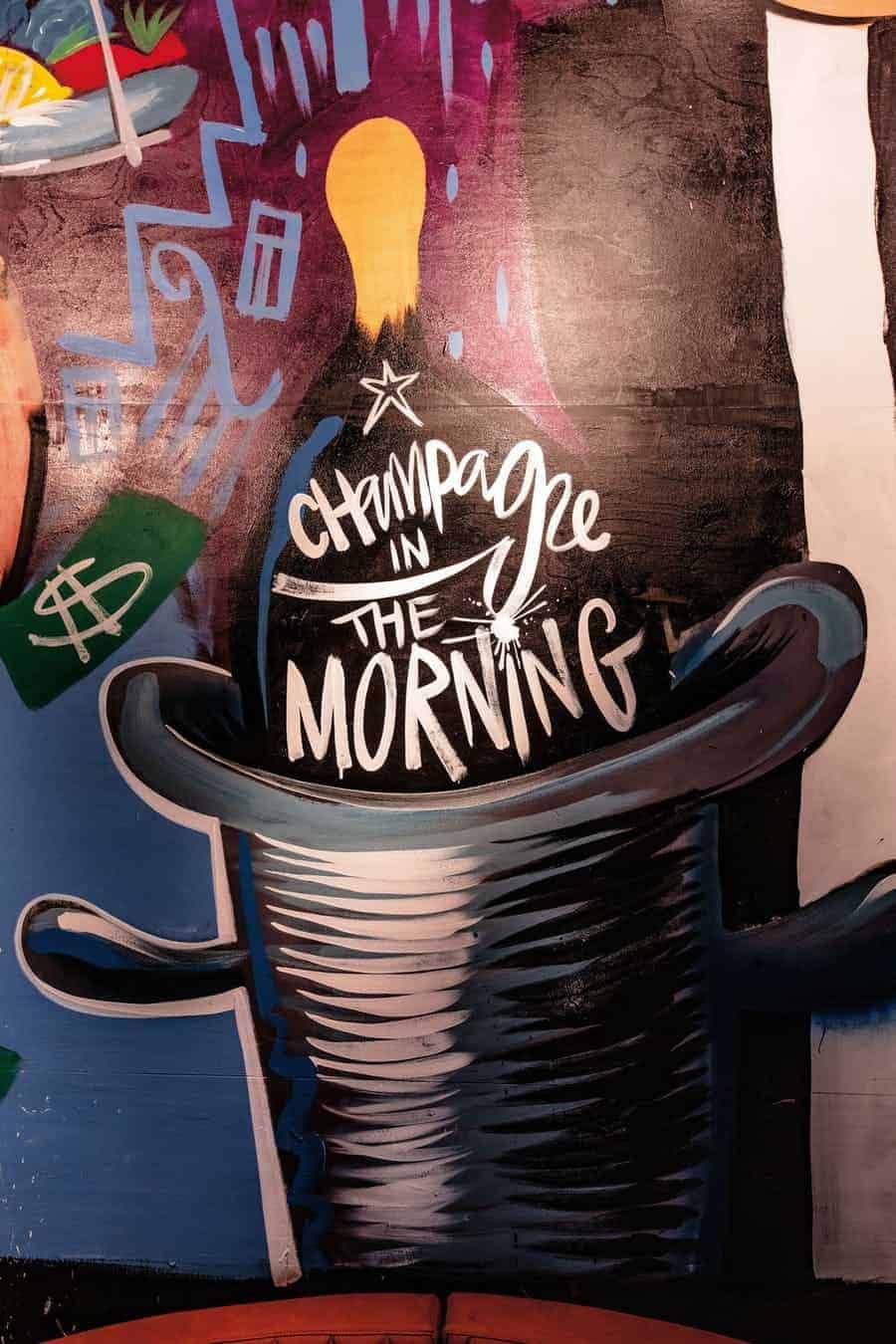 Veel haantjes
Het woord 'beleving' valt andermaal. In relatie tot het ondernemersvak, maar ook tot de uitvoering van het metier. Tot in de simpelste details. Van Leeuwen: 'Als in een volle zaak een klant binnenkomt en ik zit te eten aan een tafel, sta ik op om die persoon voor te laten gaan. Dat is logisch, maar dat gebeurt niet altijd. Er lopen veel haantjes rond in deze branche hoor!'
Dan valt de naam John de Jong, de andere The Harbour Club-oprichter, die in de sector wordt beschouwd als een tegenpool van de stillere Van Leeuwen: een man vol bravoure en overdadige ambitie. In 2014 verkocht De Jong zijn belang in de keten. Hij had een betalingsachterstand van ruim een miljoen bij een hypotheekverstrekker. Zijn uiteindelijke vertrek wordt door Van Leeuwen onder de noemer 'afgesloten oorlogsverleden' gecategoriseerd.
De scheiding ging niet alleen om geld. 'Ik wil er niet te lang meer bij stilstaan. Wat ik kan zeggen is dat John misschien meer met zichzelf bezig was dan met de continuïteit van het bedrijf, en de mensen die voor hem werkten.'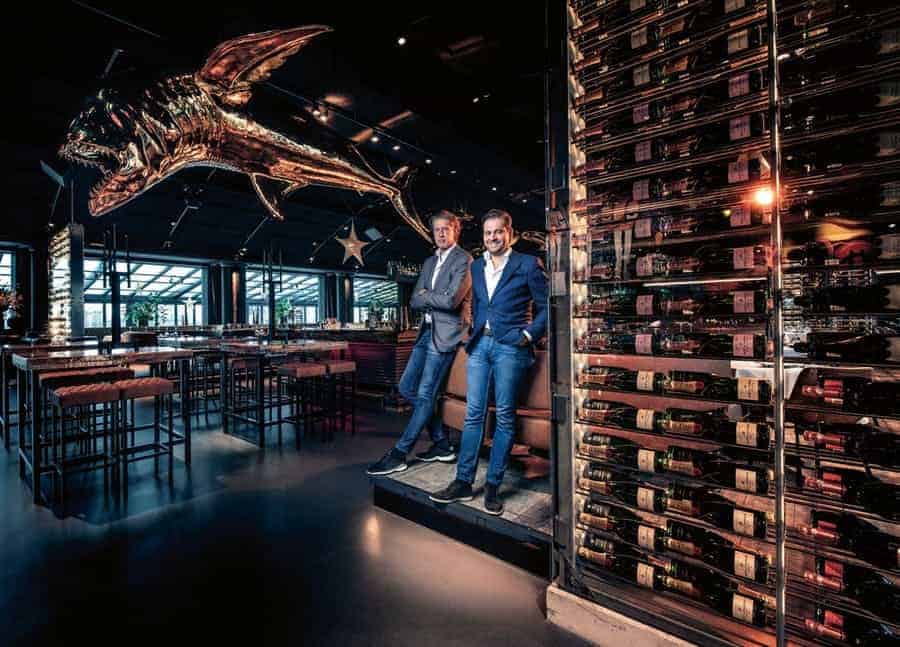 Scheiding
Nieuwbakken partner Joost Verhoeven, sinds 2012 werkzaam bij The Harbour Club en daarvoor manager bij Hilton in Amsterdam, lijkt van een andere snit. 'Het leeftijdsverschil tussen ons is natuurlijk groter', plaagt hij, wat tot licht gefronste wenkbrauwen leidt bij Van Leeuwen. Collega's zeggen dat Verhoeven een hands- onmentaliteit heeft en goed is met het potlood. 'De bedenker van concepten en zaakindelingen', aldus een bevriende manager.
Van Leeuwen erkent dat hij 'meer van de strategie en juridische zaken' is, maar vindt een scherpe taakverdeling niet cruciaal. 'Ik heb veel mensen zien langskomen – op één persoon na waren dat succesvolle compagnons. De crux is dat je met én voor elkaar werkt. Bij Joost had ik een goed gevoel: hij inspireert anderen een stapje extra te zetten, en beredeneert alles vanuit "de gastbeleving", zónder de omzet te vergeten.'
Toch ging het bijna mis. Na het vertrek van De Jong, die met een eigen zaak verderging, nam Verhoeven ontslag. 'Er ontstond een papa-en-mamaverhaal, zoals bij een scheiding: wie gaat met de een mee, wie met de ander? Op dat moment vond ik het tijd voor mezelf te beginnen.'
Van Leeuwen deed hem in allerijl het aanbod mede-eigenaar te worden van een deel van het vernieuwde THC-imperium. Verhoeven voelde zich vereerd, maar moest wel nog geld vinden om zich in te kopen. 'Toen verkocht ik binnen één week mijn huis. Zei Richard: "Maar we hebben nog niks getekend!" Waarop ik riep: "Nee, maar dan is het alvast gebeurd."' Van Leeuwen vat de anekdote samen in eigen woorden: 'Zijn ballen gingen meteen op het hakblok.'
Nu huurt Verhoeven een huis. Hij zegt geen spijt te hebben, ook niet nu de branche in nood verkeert. 'Het is ergens rot en onwerkelijk, maar ik lig hier niet wakker van.'
De partners kijken vooruit naar 2021, waarvoor 'meerdere scenario's' zijn gemaakt. Realisme botst met optimisme. Verhoeven denkt dat het bedrijf in januari weer los kan. Van Leeuwen had tot voor kort stiekem de hoop dat een van 's lands grootste verjaardagsfeesten soelaas zou bieden. 'Ik dacht echt dat we met Sinterklaas meer zouden mogen. Waarom? Deze situatie is gewoon niet veel langer vol te houden.'
Dat minister van Volksgezondheid Hugo de Jonge tijdens de laatste persconferentie in november niets meldde over de heropening van de horeca, maakt de mannen evenwel nog niet onrustig, want: 'In de huidige omstandigheden kunnen we het tot 1 april uithouden­.'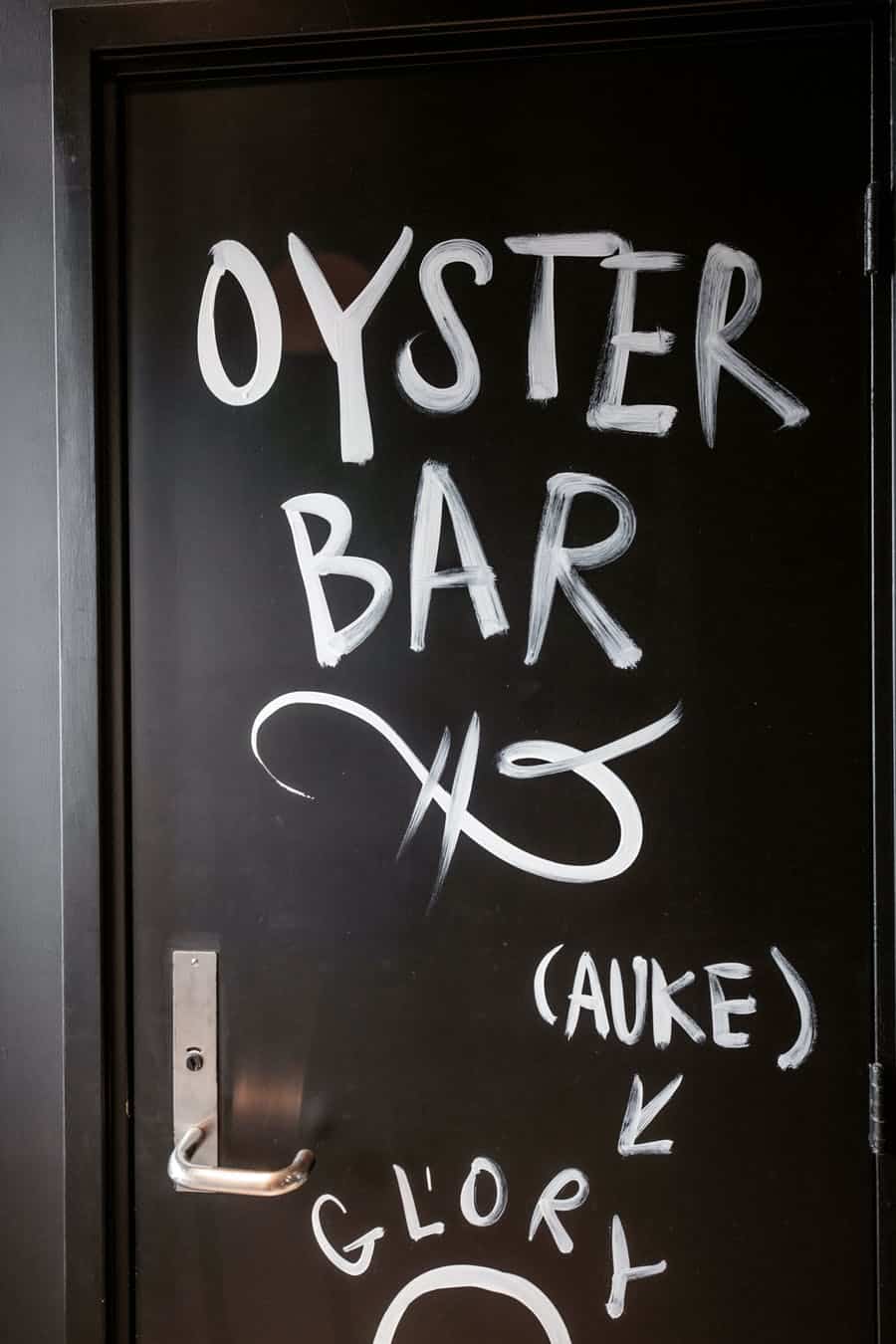 Nieuwe locaties
Het duo blijft ondertussen nieuwe plannen maken. Zo wil The Harbour Club een dienst introduceren waarbij chefs bij mensen thuis koken en wil het gaan werken met 'verrassingspakketten', die werkgevers personeel cadeau kunnen doen. Ook blijft de vóór corona ingezette uitbreidingsstrategie in beeld. 'We hebben twee locaties in Zuid-Nederland op het oog, en zijn in gesprek met de Mariott-hotelketen over samenwerking.' Op dit moment is er een constructie met Apollo Hotels, dat franchisenemer is van de vestigingen in Amsterdam-Zuid en Vinkeveen.
Het klinkt fraai en hoopgevend. Maar ook de rustig ogende Van Leeuwen weet dat de toekomst wankel is. Onder de oppervlakte blijven emoties vechten om voorrang. 'Kijk, natuurlijk kook je soms vanbinnen in deze tijd. Ik denk wel dat we een betere toekomst hebben dan het knijpje om de hoek, maar duidelijk is dat er de komende periode heel veel op het spel staat.'